Mea Pangia
Artistic Director, Jazz, Leaps/Turns, Tap, Lyrical, DXC
Mea Pangia has a degree in Theatre and Dance from Rowan University. She has also studied dance at Dance Center of South Jersey, Lowe Dance Studio, Koresh Dance Center in Philadelphia, and under the direction of choreographers such as Paule Turner (founder of c o u r t), Melanie Stewart (Contemporary Dance Company), Ronni Koresh (Koresh Dance Company), Savion Glover (Tap Direction for the animated film Happy Feet), Chet Walker (choreographer for the Broadway show FOSSE), and Robert Burden (Tap Team Two and Co). Mea has received scholarships to Joffrey Ballet, STEPS in NY, and The American Dance Festival in NC. She has also performed with dance companies: Voorhees Dance Ensemble and Ritz Theater Dance Company. Miss Mea has performed in numerous productions such as SHOES 2 DANCE, SWEET CHARITY, VICOR/VICTORIA, A CHORUS LINE, STEPPING OUT, LILITH, PETRUSHKA, THE NUTCRACKER, THE SOUND OF MUSIC, AND DUKE AND DANCE as well as performing at the Philly Fringe Festival. She has also choreographed musicals at The Ritz Theater including GODSPELL and CANDIDE. Miss Mea was also the choreographer for the Jersey Surf Drum and Bugle Corp for their "Soul Searchin" touring company. Mea has received numerous choreography awards during competition season as well as having her piece "We Are Gonna Be Friends" selected to perform in the choreography review in 2014, where Cathy Roe described Mea as a "master of composition". In April 2015, Mea's contemporary piece "The Great Beyond" was chosen to perform in the choreography review at Cathy Roe Ultimate Dance and her piece "A Fifth of Beethoven" was chosen to perform in the Entertainment showdown and won! Mea has been awarded a scholarship to attend the Rhee Gold Dance Retreat in Massachusetts and this past season was awarded a scholarship to attend the Dance Teacher Web conference in Connecticut. This past season, her piece Toxicity was chosen to perform in the choreography review at Cathy Roe. Mea was invited to join the inner circle of Dance Studio Owners Association. She is very blessed to have such wonderful people in her life and this includes the Dance Xperience family! Mea would like to thank all of you for allowing her to share her love of dance and for making her dreams a reality with her students at Dance Xperience!
Hailey Hubbs
Ballet, Jazz, Twinkle Star Classes, DXC
Hailey is an upcoming dancer and choreographer in the South Jersey and Philadelphia region. She is currently a Senior at Rowan University earning her Bachelors Degree in Dance, as well as her associates in Entrepreneurship. Hailey has trained in numerous forms of dance including Tap, Ballet, Jazz, Hip-hop, Modern, Pointe, Lyrical, and Musical Theater. Hailey loves to use her dance experience by being involved in many clubs at Rowan. Some of her involvement includes Dance Extensions, a modern dance company under the direction of Paule Turner where she is currently acting Historian, and Alpha Psi Omega,  Theater and Dance Honors Society where she is currently acting as Vice President under the direction of Melanie Stewart. Hailey has traveled with her classmates to compete and take professional classes with the American College Dance Association for three years.  Productions she has performed in at Rowan University include, They Slice the Air (Paule turner), The Magic Flute, Verses (Paule Turner), Making Trouble (Paule Turner, Leslie Elkins, and Beau Hancock), The Women (Lane Savadove) and Past, Present, Future (Paule Turner), Danse Macabre (Paule Turner), and has choreographed for the 2017 showcases, Move-meant, and a 2017-2018 Lab Theater show, It's Happening at Home. Hailey has debuted in her first Philadelphia performance, Dancing Past the Dark under the direction of former Atlantic City Ballet dancer, Jennifer Gordon.  It has been her dream as a child to somehow involve herself in dance, and share it with as many as possible. Hailey is a Dance Xperience alumni and we are so very excited to welcome her back to our studio but this time as a staff member!
Ricky "Glytch" Evans
Ricky "Glytch" Evans is a street dancer from Pennsauken, NJ. He has been dancing for over 10 years, but continues to be a student of his style, always looking for more historical knowledge as well as keeping up to date with the latest Hip Hop trends. His professional career started in 2005 with Face Da Phlave Entertainment, a dance crew that bridged the gap between Philly and Jersey dancers with the purpose of educating the community about the origins of Hip Hop dance. The crew also preached using dance (and the other arts as well) as an alternative to drugs, bullying, and violence. His first few years at Face Da Phlave was spent solely on training in the styles of Hip Hop, and at the same time he was studying for his B.A. in Economics at Seton Hall University. Once he graduated, the wheels on his dance career would start turning and take him places. He began teaching at various colleges and dance studios, and he would make his way into fitness centers with a Hip Hop aerobics class called Groovics. Glytch's dance would also go around the world. In the past few years, he has traveled to Paris to represent the U.S. in an international dance battle called Juste Debout, and from there he would start giving workshops in Colombia, South America. Other notable accomplishments were ventures with his crew, The Hood Lockers. They were featured on So You Think You Can Dance, the NYC couture fashion show; and most recently, an off-Broadway production written by Dr. Rennie Harris entitled "LUV American Style". We love Mr Ricky and cannot wait for another dance season with him!
Erika Mero
Erika Mero began her dance training at Princeton Ballet School. As a dancer in the Professional Training Program, she studied with Elisabeth Carroll, Septime Webre, Maria Youskevitch, Mary Pat Robertson and Douglas Martin. Ms. Mero was a member of Princeton Ballet II, a pre-professional company of the school, where she performed works by Sherry Alban and other members of the Princeton Ballet School staff. Later, as a dancer in American Repertory Ballet Workshop, Ms. Mero appeared in the premiere of Graham Lustig's Standstill as well as the ballerina role of Swanhilda in Coppelia. During these years, she also attended The Juilliard School's summer program. In 2006, Ms. Mero graduated Cum Laude with a BFA in Dance Performance from SUNY Purchase. While in attendance at SUNY, Ms. Mero began teaching at American Repertory Ballet's Princeton Ballet School in 2003 and continues to do so as a ballet instructor. She is also a Dance Instructor with American Repertory Ballet's Dance Power in New Brunswick and was recently named the Curriculum and Assessment Supervisor for the Program. Erika's performance work includes two seasons with Stuart Loungway's Terra Firma Dance Theatre, several opera productions with Opera New Jersey and as a featured dancer/choreographer in Capriccio at the Academy of Vocal Arts in Philadelphia. In May 2010, Erika graduated with an MA in Dance Education with a concentration in ABT Ballet Pedagogy from New York University. Ms. Mero is an ABT® certified teacher who has successfully completed the ABT® Teacher Training Intensive in Primary through Level 7 and Partnering of the ABT® National Training Curriculum. Erika has been on the faculty for ABT's Young Dancer Summer Workshop since graduation from NYU and is currently an adjunct instructor at The Lawrenceville School in Lawrenceville, NJ as well as Rutgers University at Mason Gross School of the Arts. We are so very lucky to have Miss Erika on our staff and look forward to another fantastic year with her.
Laura Jean Volkland
Ballet, Jazz, Tap, Musical Theatre, Twinkle Star Program, DXC
Laura Jean Volkland started dancing around the age of five and was trained near Princeton New Jersey under the RAD's dance educational program until she was eighteen. Laura graduated from Montclair State University in 2013 with her degree in Dance and Theatre. Since graduating Laura has taught dance, theatre, and vocal lessons all over New Jersey and Pennsylvania at different studios and conservatories. This is Laura's third year with Dance Xperience where she teaches Ballet, Jazz, Musical Theatre, leaps and turns, Stretch and conditioning, and the twinkle baby tap and ballet classes. Laura performs and choreographs with local artists from all over New Jersey, Philadelphia, and New York. For the past five years Laura has been performing with Odd Act's Improv troupe. This past spring Laura started a new venture in stand up comedy. Laura is currently working on creating her own Improv and comedy company. Laura is so excited for another season with Dance Xperience and many more to come!
Bridget Fluder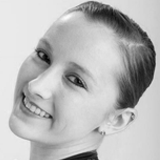 Ballet, Lyrical, Twinkle Star Classes, Pointe, DXC
Bridget Fluder received her BFA in Dance Performance from Towson University in 2013.  While studying at Towson she was a member of the Towson University Dance Company, performing solo and lead roles in various classical and contemporary works; such as Paquita, Sylvia, Giselle, Napoli, Swan Lake, and new works by Linda-Denise Fischer Harrell (former Principal of American Ailey Dance Theatre) and Runqiao Du (former Principal of Washington Ballet).  The rigorous six-course dance composition series at Towson led her to choreograph various works of her own.  Bridget studied with contemporary ballet companies during her summer and winter breaks, including BalletX on scholarship, Complexions Contemporary Ballet, and Terranova Dance Theatre.  The Towson Dance Department also awarded her a scholarship for summer study.  Bridget performed professionally with Ballet ADI in Maryland, and Columbus Dance Theatre in Ohio.  She most recently studied with Helen Pickett and Stuart Loungway at their Choreographic Essentials Workshop in New York City. Miss Bridget is a wonderful asset to our studio! Bridget has enjoyed her many years with the Dance Xperience family and is excited for what's to come!
Caitlin Beausang
Tap, Jazz, Lyrical, Twinkle Star Classes, DXC
Caitlin Beausang started her dancing career at the age of two at Triplett Dance Academy located in Medford, NJ.  She studied jazz, tap, ballet, pointe, hip hop, lyrical and modern genres.  During her years at Triplett she was part of the competition dance team from the age of 7-17.  While part of the competition team she performed all around the United States competing and dancing in workshops.  At the age of 13 she was selected to travel to Buffalo, New York work with the Gus Giordano Jazz Dance Company.  Caitlin graduated from West Virginia University with a Bachelor of Arts focusing in Dance and Business.  In the spring of 2006 she was chosen to be a part of the Orchesis Dance Company at the University.  Throughout her 5 years of being a company member, she performed and choreographed multiple tap, modern, and jazz pieces for informal and formal shows. After graduation, Caitlin's main focus was teaching for a local dance studio in Ocean City, NJ.  Caitlin is sought after as a choreographer for pageants, recitals and Disney pieces.  In the summer of 2012 Caitlin was blessed with the opportunity to work in Walt Disney World for "Dance the World."  While in Walt Disney World she choreographed and performed pieces for the main street parades in Magic Kingdom.  Miss. Cait's classes are always full of energy and enthusiasm, just like Miss Cait.  She feels very blessed to be able to share her love and passion of dance to all her students at Dance Xperience. We are so excited to have her in our family!
Katherine "Kat" Corbett
Katherine "Kat" Corbett is originally from eastern North Carolina where she grew up and attended East Carolina University. She received her BFA in dance performance and began teaching and choreographing in NC. Over the years, Katherine has trained and worked with with choreographers at BodyTraffic, Koresh, American Dance Festival, and Rubberband Dance. Katherine now resides in Philadelphia and performs with companies such as Brian Sander's JUNK, Asya Zlatina and Dancers, and Matter Movement Group. Miss Kat is excited to be a part of the DX family!
Maria Cousins
Miss Maria graduated from Douglass College, Rutgers University with a Bachelors in Spanish and Theatre Arts. She earned her teaching certificate to teach Spanish for grades K-12. Miss Maria also has her elementary certification as well. She has also earned her Masters in School Counseling from the College of New Jersey. Miss Maria taught Spanish, Academic Mastery and Bilingual-Bicultural Education for over 35 years until her retirement in 2015. Mrs Cousins was elected twice as Teacher of the Year and served as advisor and co-advisor to the middle school yearbook, School Leadership Committee and middle school Junior National Honor Society. Her favorite accomplishments are marrying her wonderful husband Kevin and raising her beautiful daughter, Kayla. Miss Maria has been working in the office at Dance Xperience since 2013 and is the heart of our studio. She loves all of the dancers at the studio and treats each child as if they were her own. She is a fantastic receptionist and a caring, beautiful person. Miss Maria is loved by everyone in our dance family!
Kayla Cousins
Twinkle Star Classes, Tot Hop
Kayla has been dancing since she was 5 years old and was a student of Dance Xperience dance studio and resident dance company, DXC,  until she graduated from High School.   Kayla is currently studying Performing Arts Dance at Rowan University and will be graduating in the spring of 2019.  During her college career, she has been a member of the Rowan University Dance Extensions Company. As a member, she has been able to perform in various dance productions and has worked with artists from around the world.   She has also performed in Rowan University Mainstage productions- "Dance of the Macabre" and "House of Murals"  Kayla has also had the opportunity to travel to other colleges in the country through the American College Dance Festival Association.  While studying at Rowan, Miss Kayla has been a substitute on several occasions at Dance Xperience and has also done through Dance Xperience's Student Teacher Program.  This past summer, Kayla auditioned for Philadanco's summer training program and was accepted.  Miss Kayla is super excited for this dance season with all of her wonderful students.
Emma D'Entremont
Twinkle Star Program, Jazz, Ballet
Emma D'Entremont has been dancing since she was 3 years old, and spent 15 years dancing with Dance Xperience as a student and part of the company team. During her high school years she worked with former Broadway performers Jackie Bayne and Jason Gillman at their Broadway Artists Intensive in Florida and worked closely with the Man In Motion dance company in New York to create their award winning "This Is Me" video. She has been a substitute teacher on several occasions at Dance Xperience since graduating. Emma continued her dance career into college by being a part of the Rowan Dance Team. She will be graduating in Spring 2023 from Rowan University with a Bachelor's of Science in Psychology with a minor in Neuroscience. Emma is so excited to be a part of the Dance Xperience family again and to teach students the art of dance!
Brittany Morton
Brittany Morton has her Bachelor's Degree in Dance Performance and her Master's Degree in Athletic Leadership from Rider University. During her time studying in the Rider University Dance program under Dr. Kim Chandler Vacarro, she trained at Princeton Ballet School. She was a member of Rider Dances and the Rider Dance Ensemble. Brittany has won multiple NJ state titles and a national championship at the National Dance Alliance Nationals competition in Orlando, FL with the Rancocas Valley dance team as captain. Brittany currently is an intern for the non-profit organization, Dance New Jersey and a company member for At The Brink Dance Projects, an apprentice with Roza Dance Company and has recently performed with the Jill Molinaro Dance Company. She is also a Certified Personal Trainer and Sports Nutritionist. Brittany is an active member of the National Dance Education Organization and is First Aid/CPR/AED certified. She has worked as a dance educator for various studios and schools in NJ including the non-profit program, The New Jersey Foundation of Artistry and Ballet. Additionally, Brittany has completed various professional development opportunities through Dance New Jersey and certifications from National Dance Alliance. Brittany takes pride in being able to nurture young artists as well as provide fun, effective, and engaging dance education to all of her students. We love having Miss Brittany in our dance family at DX!